Features
After installing the plug-in, a new Slendro Menu appears in the InDesign menu bar, from which you access the PictureReporter options. These options let you export your image settings in CSV Format, as well as create labels on top of images for your current document.

Show/Hide Image Labels
When you select the Show Image Labels command, PictureReporter scans your document for uses of all images. For each instance it finds, it creates a label indicating image information. For the most part, labels are placed on top left of the image.
Each label is placed in a colored box.
Other nice touches include each label type being placed on its own layer, so you can choose to hide all the image labels, for instance. And the labels themselves are governed by a new character style created when the command is run, so you can easily alter the look of the text within the label. If you alter the font and/or font size to the point that the labels are now too small for the text, the FitImageLabels command will adjust each label accordingly. If you add or delete text in your document, you'll need to re-run the Show Image Labels command.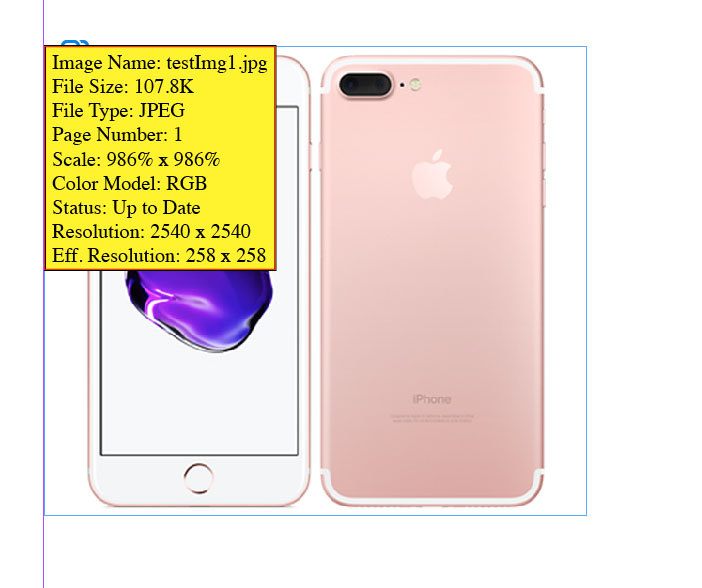 Reports - Export Images as CSV
Use the "Export Images As" option to export all of your image settings to .csv (comma separated variables) format. You can open this format in any spreadsheet application, such as Microsoft excel. The report contains the attributes for every available setting in the paragraph/character style options - some 84 of them. It's a good solution to handling the amount of data associated with a paragraph style. However, I wish StyleReporter let me customize the settings it reports when using the "ExportStyles" command. We will happily customize the reports for you, you need to contact us to do it.

CSV Image Report as Exported by Image Reporter